SMH Features And Benefits
A year and a half in the making, we are proud to present you with the long awaited SMH, short for Solar Management Hub. Visit our support page to see how easy it is to setup and use Solar Management Hub.
Without further ado, let's jump straight into the benefits and features:
*Note that some of these features require an active subscription service.
---
We are proud to introduce the SMH Mobile app for Android and IOS, which allows you to monitor your system directly on your phone or tablet.  It has built-in analytics and statistics about your system, and also include the ability to switch your system between modes like SBU and Utility, all from the palm of your hand!
It's also the ONLY app in the world that updates in less than a second, providing 100% real-time updates directly from your system to your mobile device.
Experience the app for yourself by installing the app for IOS or Android below, and scan the QR code once prompted. (the ability to switch the system has been removed as this is a live system).
---
SMH comes with a beautiful web-app, designed to give you real-time values (±2 seconds update time) of what's happening in your system. The entire app is responsive, meaning that the look and feel will automatically adjust to fit the screen its being used on.
You can even have the values from your inverter sent straight to your phone over the internet if you prefer!
The Value Display shows the minimum and maximum values for the day, together with the most common data to draw a conclusion of how your system is performing, including the efficiency as well as a doughnut chart showing a breakdown of utility versus renewable energy.
This display takes care of the "at a glance" requirement if you want a quick overview of your solar system.
Keeping track of which inverter is doing what can be a daunting task, but with support for up to 9 inverters, SMH makes this easy.  The inverter display give you the total values of all inverters together, and then takes it a step further by showing you the individual performance data for each of them, all in real-time!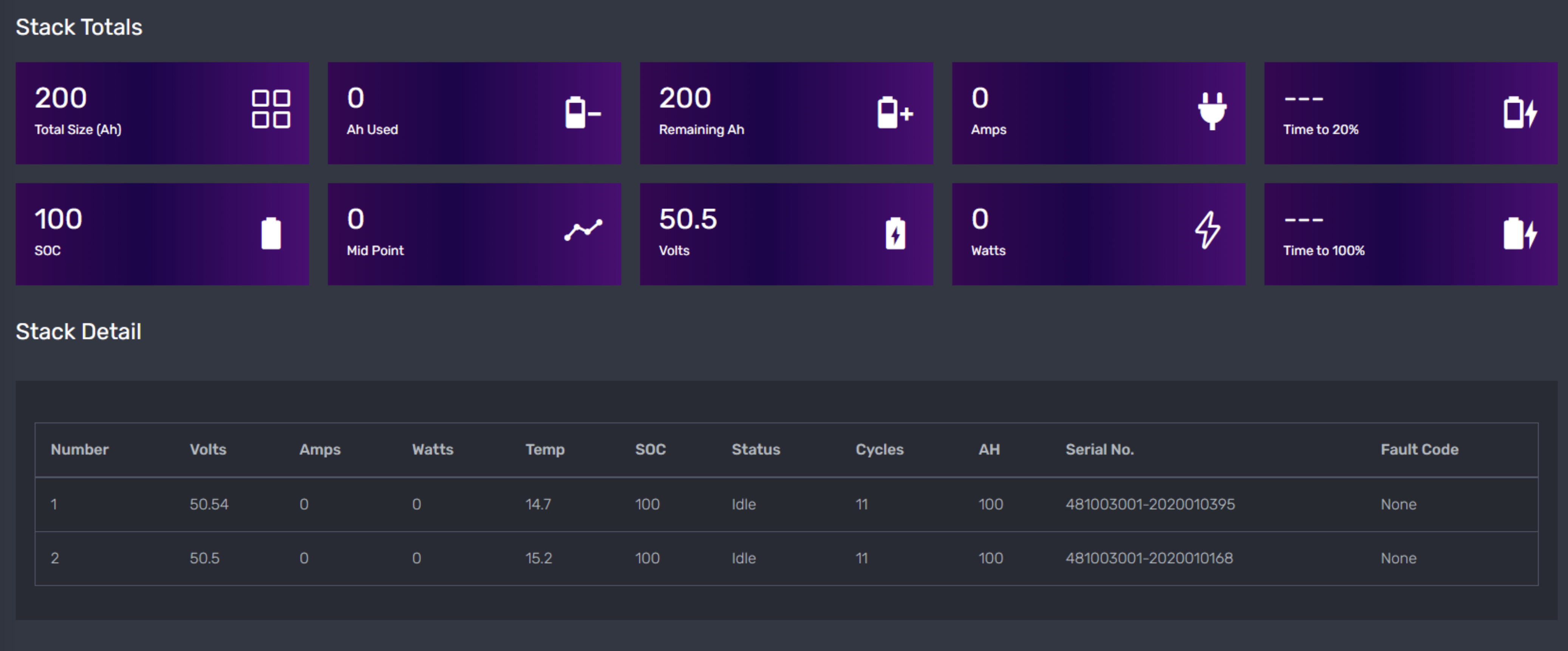 The most important part of any solar system is the performance of the batteries.  SMH therefore has an entire display dedicated to just that, where the combined performance data of all the batteries are shown at the top, with the data from each battery at the bottom.
Managing the energy in and out of your batteries has never been this easy!
SMH also includes a very advanced analytics engine, allowing the user to see what his system performs like today versus a year ago for instance.  The same is done with the batteries, showing the amount of energy in or out of them for any given day, as well as a graph depicting the  state of charge versus the battery voltage.
The analytics engine also includes a cost recovery module, showing you what the system cost to put in, what your daily savings are (based on your usage), together with how long it will take to recoup the money spent on the system. You can also look at the data that make up these figures for every day, week, month or year.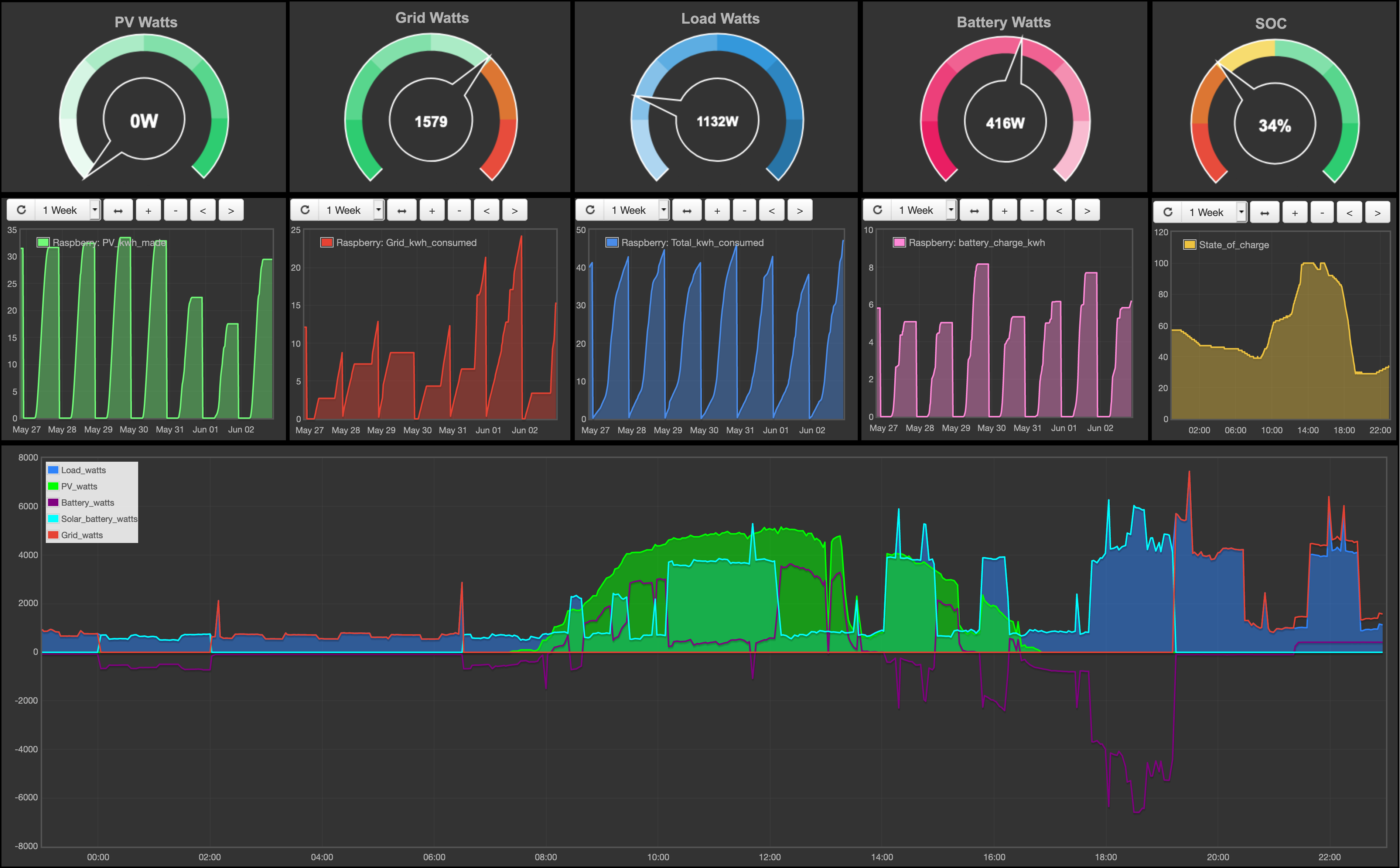 Warranty claims are often approved or denied based on the available data recorded by the system.  To that end, SMH constantly monitors the connection from the Pi to the cloud portal, so in the event that the Pi loses internet connectivity, it will cache the data coming from the inverter locally until it can detect a stable connection to the server again, and then upload back to the server retrospectively, ensuring that no data is lost as long as the Pi has power.
Based on the overwhelming feedback we got from previous versions, we designed all the new dashboards to be in dark mode with soft pastel colors, which not only makes them easier to see and read, but also reduces energy consumption. Check out a live version here: Analytics dashboard
SMH also comes with full home automation capabilities. We can speak to all MQTT based systems like OpenHAB, Home Assistant, etc, which you can then use to dynamically turn devices on or off based on the metrics coming from your solar system
Accountability & Security Architecture
Probably one of the most sought after features by all solar installers is the ability to go back in time to see who did what in the solar system.
SMH is proud to finally fill that gap by logging everything happening in the system. Even when a non-user related event like Utility Failure occurs, it will still show that the System account recorded the event!
Every Inverter change is recorded as well, including who made the change.  From enabling the backlight to configuring the maximum charge rate per inverter and more.  If it happened it's logged.
A user-management module is also included, allowing installers to create lesser-privileged accounts for their clients, or higher privileged accounts for other team members, further ensuring that no change happens without showing what changed, where, when and by who.
There is a completely new desktop client that runs on the Pi, where everything has a tooltip.  If you don't know what something means, simply hover your mouse over it and a popup with an explanation will appear to help you along the way.
Among the data you are used to, we have also included a field for "Battery Time to %" and "Battery Time to 100%". If you use a compatible battery, we will calculate an approximate runtime based on the load to get to the configured % SOC (when running in battery mode).
This is brilliant for load shedding, as it will indicate when to start using electricity more sparingly in order to extend the runtime!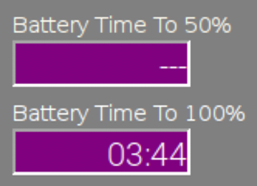 We have also included a field for "Battery Time to %". If you use a compatible battery, we will calculate approximately how long you can run on your batteries based on the load before reaching the configured % SOC.
This is brilliant for load shedding, as it will indicate when to start using electricity more sparingly in order to extend the runtime!
On the other side of the discharging calculations, the Battery time to 100% will give you an indication of how long the battery bank will take to fully charge according to the current charge rate, which again is very useful to determine if the batteries will be full by the time the next "eskom se push" notification comes up to spoil your day.
SMH can also monitor up to 8 batteries through a compatible BMS, displaying the unique cycles per battery, etc.
There is also a brand new cellphone dashboard, designed to simply be saved as a shortcut on your phone. Opening it up will show you how energy is being consumed in your system in an instant, in a very easy to understand, elegant and clean manner. A live version of this can be seen here: Cell phone Dashboard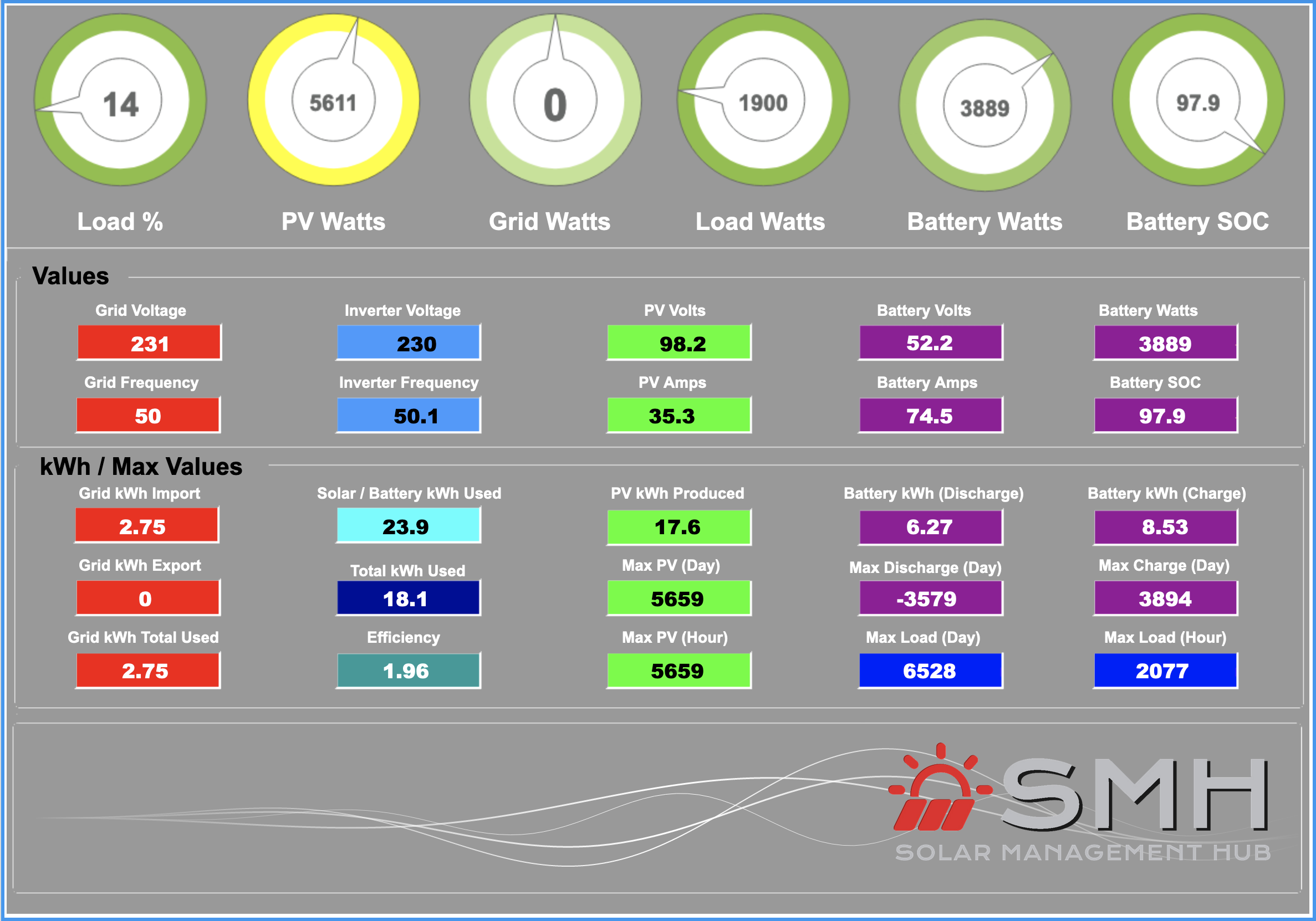 There is also a lightweight version of the Solar Management Hub Desktop running in the cloud portal, to allow the installer in the field to gain some more technical information about the system, should it be required.
Telegram integration is offered as well, allowing you to get notified of any warning or fault in your system in near sub-second response time.
Never again will you have loadshedding without your system informing you about it. Once the utility power is restored, the system will automatically inform you that the utility failure has been resolved.
You can also configure which alerts make sense to you or not, tailoring them to your unique requirements. If your system has sub-alerts (sometimes referred to as Parallel alerts like error 80 for CANbus or 69 for Battery comms), those can be configured as well.
Alerts can be sent to an email address and/or Telegram or just to the notify window on the dashboard, which will flash when you log in to let you know that something happened.
Every feature that WatchPower support has been meticulously re-created with the same look and feel you are used to. For multiple inverters you simply have to select which one you want to alter, and the system will request its data. Once received, you can adjust the settings in question, and move on to the next inverter.
SMH also cater for enterprise customers, whereby the pi's they buy from us can be configured to post all their data to an enterprise portal, allowing the client to drill down all the way from a geographical map with thousands of systems to the specific system in question.
Customizable alerting with enterprise fault acknowledgement and call resolution ensure that all systems can be monitored at the blink of an eye, even in a geographically dispersed environment.
Using the drill-down capabilities of the enterprise portal, a specific system and all it's accompanying data can be viewed in real-time.
To further assist users that don't know how to operate things like VNC or Anydesk properly, we decided to make a Windows, Linux and MacOS client that connects to the Pi over the network and run as a native app.
This means that the Pi is configured once, and after that the client can simply click the shortcut on his desktop to open the client.